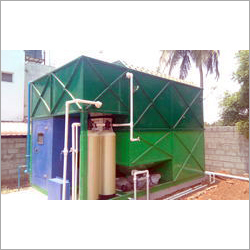 Packaged Sewage Water Treatment Plant
Product Description
Our company is engaged in the construction of several wastewater treatment plants and Packaged Sewage Water Treatment Plant is one of them. It is said to be a distinctive amalgamation of aeration and attached growth on the fixed film which enables it easy installation and also makes the operation process easier. This plant is especially prefabricated for treating the sewage water. Sewage is basically a combination of water and waste which contains all kinds of harmful organic and inorganic solids from different arenas, such as commercial, industrial, residential etc. In order to clean this sewage by removing the undesirable content from the Water Sewage Treatment Plant is being constructed. Usually the sewage treatment has three stages, primary, secondary and tertiary and Packaged Sewage Water Treatment Plant goes through the same three stages but slightly different than the usual ones. Unavailability of clean water and air has made us to emphasize over the environmental issues, which is the need of the hour today.
Offered Packaged Sewage Treatment Plant is a kind of versatile and innovative system which is installed for the effective treatment of sewage water which also involves the removal of the nutrients. It is especially configured for total phosphorus and nitrogen reduction, including the reduction of suspended solid and BOD reduction. In order to create the physical-biological tertiary treatment with water recycling Membrane Bioreactor is being built into this finely fabricated Packaged Plant. Along with proven environmental friendly in nature, there are number of benefits which a sewage treatment plant offers.
Benefits of constructing Packaged Sewage Water Treatment Plant:
1) This Packaged Sewage Water Treatment is being tested on number of industrial and environmental parameters, which has proven that it offers consistent performance at all time.
2) This well-constructed PSWTP (Packaged Sewage Water Treatment Plant) conserve the natural environment against pollution.
3) Installation of this finely prefabricated Packaged Sewage Water Treatment Plant reduces the risk of environment getting affected.
4) This energy efficient plant does follow the easy installation process and operation and does not require to be maintained highly.
5) The Packaged Sewage Water Treatment Plant is designed in a way which meets the standard for emission of pollutants.
6) For the construction of this Packaged Sewage Water Treatment Plant a construction land is required. Along with the land it also requires electricity to 7) function. It is designed in a manner, which makes it an energy efficient alternative for our clients.
7) Being tested on number of industrial, environmental and health parameters has made this sewage treatment plant an ideal plant.
Packaged Sewage Water Treatment Plant Specifications:
1) Automation Grade: Automatic
2) Impurities to be removed: Oil and Grease
3) Treatment Stages: Primary Treatment
4) Air Blower Count: 2
5) Secondary Treatment Type: Moving Bed Bioreactor (MBBR)