Commercial Iron Removal Water Plant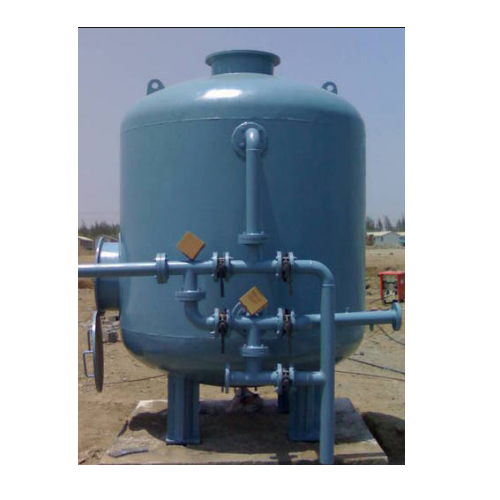 Commercial Iron Removal Water Plant
Product Description
Equipped with carbon steel or stainless steel housing, Commercial Iron Removal Water Plants are used for thorough removal of heavy metal based impurities present in untreated water. These types of water treatment equipments are required to treat tube well or ground water where presence of manganese and iron is common. Mechanical operation of such plants saves labor cost and enhances their production capacity. Water Softening Plants are offered with electro polished, mirror finished and matt spray treated surface finishing option.
Components of Iron Removal Water Plant
Provided water treatment plants consist of washer and O ring seals and 316L or 304 grade stainless steel chamber. These use activated carbon, quartz sand, resin and fiber ball based filter sand. Flange equipped connector is one of their main highlights. Controlling section of such plants comprises of manual and time controlling arrangement and differential pressure switch.
Mechanism of Iron Removal Plant
As part of their operating method, untreated raw water enters inside water distributor of these Iron Removal Plants. Entered fluid passes through the layer of quartz sand filter that effectively holds impurities. Filtered fluid flows out and goes towards water collector. Cleaning cycle of these plants start to function when fluid pressure drop reaches to the predetermined parameter or value. At this stage, steps like rinse control and back flushing take place.
Several versions of these plants have plastic and rubber linings inside their tank to resist corrosion formation. Based on their design, these types of plants can endure maximum 3 bar of water inlet pressure and up to 120 degree C operating temperature.
Advantages of Iron Removal Water Plant
There are several advantages of installation of such plants. These include:
1) Besides eliminating iron, these equipments also come in handy for removing manganese and sulfur present in water. Sulfur gas generates unpleasant smell which in turn interferes with taste of water.
2) Iron treatment plants are also effective in preventing sediment generation in water. Sediments can affect water quality and taste which in turn prove to be detrimental for human health.
3) Automatic regeneration technology adopted by such plants improves their filtration performance. This filtration technique involves application of compound like potassium permanganate. This specific compound upgrades quality of sand filter in order to save maintenance cost and to enhance filtration quality of these plants.
4) Treatment technology of these equipments prolongs service life of filtering components and inhibits proliferation of bacteria inside filtration tank.
5) Act as reliable and stable option to get pure water.
6) Prevents toxin build up in water meant for domestic utilization purpose.
7) Safeguard plumbing accessories and pipes against rust.
Attributes of Commercial Iron Removal Plant:
This multifaceted plant is in high demand due to its wide array of features. Acting as an energy-saving device, it doesn't require much electricity to function at its peak. What makes this product stand out from the rest is its ability to cleanse water with varying degrees of Ph levels (from 0-14). This diverse tool not only removes iron but also other hazardous chemicals such as arsenic, lead, and manganese in the process. Broad in size, this sturdy machine is built for long term usage.
Other attributes are:
1) Effortless operation provided by this product's automatic features like its shallow pump
2) Equipped with industry standard absorption filters to improve the drinking condition of water.
3) Equipped with four high-octane chambers for optimal filtration
4) Low and easy maintenance
5) Long service life
6) Customizable design available as per client's requirements
Water cleansing mechanism:
Our Iron Removal plant undergoes a systematic process for removing harmful chemicals.
1) Filling the aeration tank with the required amount of water
2) Water is transferred into four specially designed chambers for initiating the iron removal procedure
3) Water is transported through each chamber which gradually improves its quality
4) The removed iron becomes oxidized and successfully removed once the water reaches the fourth chamber as it comes into contact with air
Offered Iron Removal Plant is effective in the fast and thorough removal of heavy metal and chemical content of raw water. This plant was built in our state of the art factory with the latest technology. With our main office situated in West Bengal, we cater to businesses all across Northern India, Bangladesh, Bhutan, and Nepal. We can supply up to 10 units per request with standard packaging.
Iron Removal Water Plant Specifications
| | |
| --- | --- |
| Diameter | 1-5.8 m |
| Automatic Grade | Semi-Automatic |
| Installation Service | Yes |
| Capacity | 1000 - 1, 00,000/ Hr |
| Treatment capacity | 5-250 m3/h |
| Material | FRP/ MS/ SS |
Trade Information
Kolkata

Cash Advance (CA), Cash in Advance (CID), Cheque, Letter of Credit at Sight (Sight L/C)
Standard

East India, Assam, Bihar, Chhattisgarh, Jharkhand, Mizoram, Meghalaya, Manipur, Nagaland, Odisha, Tripura, West Bengal