Commercial Reverse Osmosis Membranes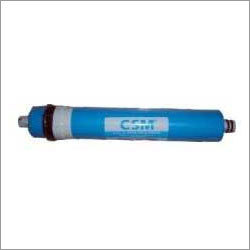 Commercial Reverse Osmosis Membranes
Product Description
We have been engaged in the formation of finely fabricated Commercial Reverse Osmosis Membranes. These membranes utilize a strong pressure gradient in order to move water through their semi-permeable layers. These layers only allow the passage of water through them while leaving the salts along with other larger molecules behind. Such well- made membranes composed of layers of finest grade of fibers have been tested on higher industrial parameters, which ensures their functionality.

Offered elements are available in different sizes and forms and our prime customers can easily place their orders and avail them as per their requirements. These are applicative in number of industrial sectors, such as dairy sector, cooling tower, boiler industry, cold storage, food processing arena and many more.
Functioning of Reverse Osmosis Membranes
These RO Membranes are applauded for being highly durable in nature due to their corrosion protected nature. They follow the easy installation process and can be availed under the most economical price range. Such membranes are said to be very sensitive to several parameters, like climatic conditions, temperature along with being affable at economic and financial parameters. Offered membranes can effectively and stably remove the dissolved organic substances, dissolved salts through them. From being used for the production of ultra-pure water to desalination of seawater these finely made reverse osmosis elements are being used effectively. Reverse osmosis is an easy and simple process which makes the operation uncomplicated along with keeping the functioning free from trouble. Along with permeate carrier and mesh spacer these available RO Membranes are also an integral part of this process.
How RO Membranes should be selected?
Depending upon the kind of application a RO unit has to perform choice of the membrane has been made. One has to make his or her mind while selecting a membrane on the basis of size of the pore of a membrane, which give an idea of the mean size of the pores on the surface of the membrane. Varying from microfiltration, ultrafiltration to Nanofiltration there are main four types of membrane offered.
Features of Commercial RO Membranes:
1) These RO Membranes are formulated from using the Schiff basis of polyallylamine.
2) These are used for separating the inorganic and organic solutes through them.
3) Temperature, pH, flux rate, recovery percentage, turbidity, electrically conductivity are the parameters of these reverse osmosis membranes.
4) Life of these offered membranes get affected by certain factors, such as bacterial attack, hydrolysis, fouling, operating pressure and chemical degradation.